Magic Child Jumper
The double front on this jumper means that the child will have a "second chance" at staying clean. Embroider or use a contrast fabric, and the jumper will appear totally different. Make from Featherwale Corduroy, Denim, Poplin or other Bottom weight fabric.
Size 6 months to 6 years in one package.
PTJ-03 ... $16.00
Sale: $10.98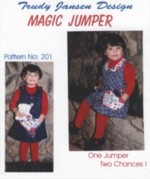 Chantilly Shirt
The designer created this shirt from a much loved ready-to-wear garment and it is fabulous. The shirt features an insert band at the bottom of a round yoke, and that band is perfect for embellishments of all kinds, by hand or machine. The pockets are an unusual shape that will challenge and delight you. Use linen, oxford, silk or chambray.
Sizes S, M, L.
PTJ-04 ... $18.00
Sale: $9.98